Cornwell Internet returned from holiday, and plunged straight into the Durham Book Festival. Although we no longer sponsor the Festival, and no longer have any connection with the running of its web site, we still live in Durham and love books, so we would want to make the most of the Festival, quite apart from the number of events which involve our clients.
As a result, our first week home from holiday included two visits to Bishop Cosin's seventeenth century library on Palace Green (to consider the past and present of the book as an object), a book launch by Vane Women, two separate readings by poets published by Flambard Press, a session organised by Mslexia at which Valerie Laws was one of the readers, and a Book Fair in the Town Hall.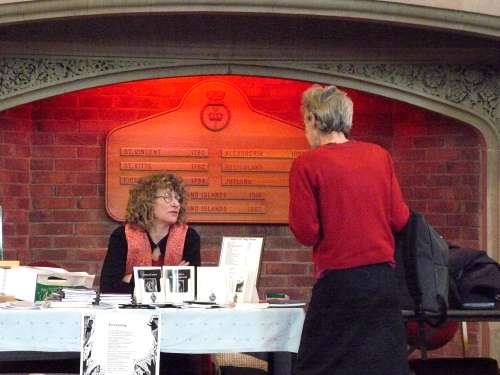 The fair was small, but we were amused to see how many Cornwell Internet clients were present. Looking around the hall I counted Smokestack Books, Chaz Brenchley (selling his elegant ghost story anthologies, Phantoms at the Phil, Red Squirrel Press (who must win the prize for best sales technique!) and Diamond Twig (pictured above, in the place of honour in front of the hall's spectacular fireplace).