Wednesday, May 26th, 2010
Ten days after Cornwell Internet's return from Fair Isle, we are beginning to feel that the work is under control and some, at least, of the holiday photos are sorted. Time for a quick report back – and by now some of the work has been done for me!
The purpose of – or excuse for – the trip was to help Ann Cleeves celebrate the completion of her Shetland Quartet of crime novels with a party at the location where the fourth novel takes place, back at the Bird Observatory on Fair Isle where Ann's love affair with Shetland began. Here is Ann's account of how things didn't go exactly to plan – but everyone had a great time all the same!
The idea had been that we would be a houseparty at the newly refurbished Observatory, but as the work was not completed in time, we all stayed at different locations around the island. Roger and I were at the South Light House: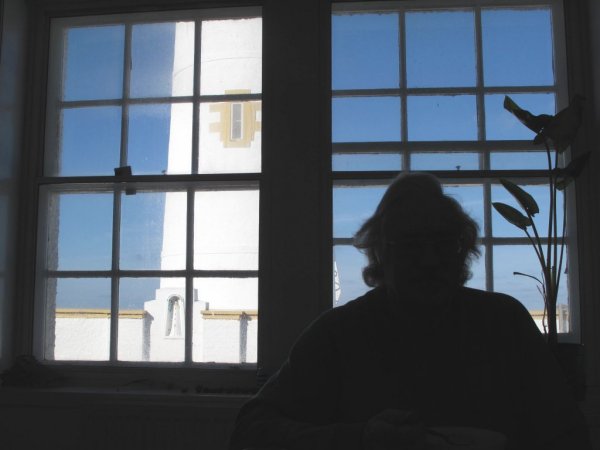 it's a tiny island, nowhere is very far from anywhere else, and we were very comfortable down on the southern tip of the island. Besides, as our host pointed out, Ann's novel Blue Lightning may be set at the North Light (where, for the purposes of the story, Ann has located the Bird Observatory), but it is the South Light which appears on the cover. Our fellow guest there was Douglas Barr, who actually appears in the book, having won the prize in an auction in aid of Vaila's Fund!
The actual party was, as Ann says, a tremendous success. Everyone on the island was there, from grandparents to babies, including two children whose birthday it was and a quartet of knitting enthusiasts who had booked a holiday on Fair Isle without realising there was a party going on. Ann and fiddler Chris Stout reprised the presentation they have created together, which they had performed the previous week in Lerwick (we later read an account in the Shetland Times). And there was food and drink and music. Local photographer Dave Wheeler took photographs which capture some of the atmosphere.
Back on Shetland Mainland, we were amused to see that Ann was not our only client to feature in the Shetland Times that week: the New Rope String Band had been in town for the Folk Festival, and had received a glowing review – that doesn't seem to have made it onto the web site, but The Scotsman described them as "hilariously deranged".