Saturday, May 31st, 2008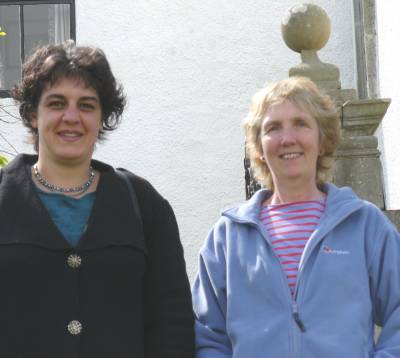 Cornwell Internet are now returned from our holiday in the Northern Isles, and we've been busy catching up with work; but even while we were away, work was never entirely out of our minds – it's fortunate that we really do love our job!
We spent a week in Orkney, where we have been several times before; then it was on to Shetland to join the celebrations for Ann Cleeves's new book, the second in her Shetland Quartet, White Nights. We had beautiful bright weather, and the long summer evenings referred to in that title, and ended up making plans for our next visit to Shetland!
The islands also made a good impression on Claire Breton, shown in the picture above with Ann at Busta House. Claire is Ann's French translator, and she takes that task so seriously that she decided to visit Shetland in the interests of research (and for a holiday, too!). We asked her if she'd learned anything helpful, and she gave us this example: "There'd be something in the book about the wind, and I'd translate it as 'a gentle breeze' – but now I know that in Shetland, the wind blows all the time, and it's a strong wind, too!"
We knew that our time in Shetland would connect with the part of our work that deals with Ann's web site – but we had a surprise reminder of another client, too. We lunched at the Northern Lights gallery and café on Unst, way up north, and while we were enjoying our crab salad realised that we were hearing some very familiar music: a selection of sixties pop songs from the Heartbeat soundtrack. The proprietor told us that she was a big Heartbeat fan, and was thrilled that Nick Berry, Constable Nick in the early shows, was booked in with her for dinner later that week, while he was in Shetland for an Cancer Research fundraising event!
And talking of Constable Nick, we were delighted, on our return to learn that the original Constable Nick (Nicholas Rhea, real name Peter N. Walker) has been honoured with a Lifetime Achievent Award at the 2008 Yorkshire Rural Awards: congratulations, Peter!