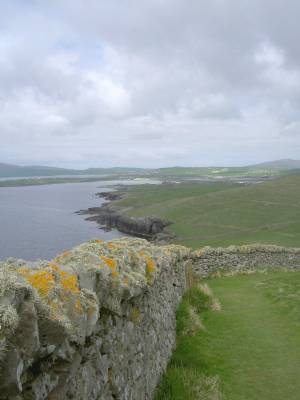 Roger and I had a wonderful holiday last spring, when we travelled to Shetland for the launch of White Nights, the second book in Ann Cleeves' Shetland Quartet. The book launch was just an excuse – the Northern Isles are beautiful, and I'd recommend anyone to make the trip.
And now Ann is offering everyone a chance to take a virtual trip to Fair Isle, not just by reading her books, but by being in them! She is conducting a charity auction, and the highest bidder will have their name (or that of a friend or relation nominated by them) used for a character in the last book of the quartet (set on Fair Isle, and currently entitled Homecoming Blues).
If you are interested, you can learn more about the auction on Ann's web site. It is being held to raise money for Vaila's Fund, set up to commemorate Vaila Harvey, who died of cancer last year, at the age of sixteen. Vaila and her sisters made an appearance in Raven Black, the first of Ann's Shetland books, when one of the lead characters goes to their party. "Appropriate, I thought," says Ann, "because whenever we visited Liz and Paul and their daughters were home the house was full of people and laughter."
Shetland is beautiful, and more accessible than you would think. But for people who live on the islands, there's still an extra hurdle to be crossed between you and the rest of the world – which makes travel more complicated and expensive. Vaila's Fund will be used to help young Shetlanders of Vaila's age to do what their contemporaries in the rest of Britain do, and to explore the world away from the islands.